Focus on
Shumona Sinha
, a francophone Indian writer
Shumona Sinha is an Indian writer who has lived in France since 2001. When she settled in France, she decided to write directly in French. She was awarded by the "Académie Française" in 2014 for her entire work, and more particularly for her contribution of promoting French language and literature.
We wanted to highlight her on the occasion of the release of her fourth novel Apatride. Apatride recounts the journey of three Indian women: one chooses to leave India and come to live in Paris; the second was adopted by a French family and tries to reconnect with her roots; and the latest one lives in a rural environment in India.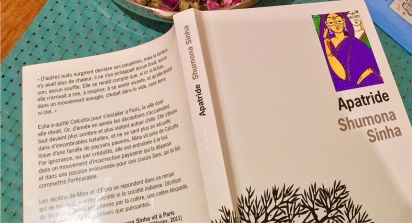 Mise à l'honneur de l'écrivaine Shumona Sinha
Shumona Sinha est une écrivaine indienne qui vit depuis 2001 en France. A son arrivée en France, elle décide d'écrire directement en français, ce qui lui vaudra de recevoir en 2014 le prix du rayonnement de la langue et de la littérature françaises, décerné par l'Académie Française, pour l'ensemble de son œuvre.
Cette mise à l'honneur se fait à l'occasion de la sortie de son 4ème roman Apatride. Apatride raconte le trajet de trois femmes indiennes : l'une a choisi de quitter l'Inde pour venir vivre à Paris ; la deuxième a été adopté par une famille française et tente de renouer avec ses racines en Inde ; quant à la dernière, elle vit dans un environnement rural en Inde.