French

Movie

Night - Le Père

Noël

est une ordure
Wednesday 20th December at 7.30pm – 1h28 - free entrance.
In French with English subtitles. Free drinks, French crêpe for 2 F$
French comedy directed by Jean-Marie Poiré, 1982. Starring Josiane Balasko, Anémone, Marie-Anne Chazel, Christian Clavier, Gérard Jugnot and Thierry Lhermitte.
Santa Claus is a stinker or Le père Noël est une ordure is a cult French comedy play created in 1979 by the troupe Le Splendid and turned into a film directed by Jean-Marie Poiré in 1982.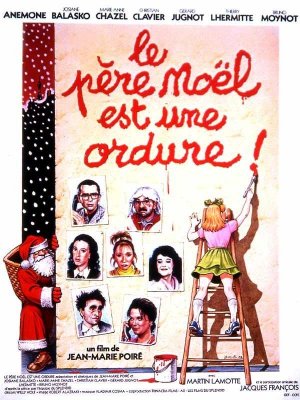 Summary :
Two neurotics, working for a suicide hotline on the night of Christmas Eve, get caught up in a catastrophe when a pregnant woman, her abusive boyfriend, and a transvestite visit their office.
Résumé :
La permanence téléphonique parisienne SOS détresse-amitié est perturbée le soir de Noël par l'arrivée de personnages marginaux farfelus qui provoquent des catastrophes en chaîne.
Trailer : https://www.youtube.com/watch?v=3-WEx7_3lWQ