French

Cooking

Class

with the Chef

Philippe Garand
The next French Cooking Class is scheduled on Friday 28th April, as we have just celebrated in March "Goût de France / Good France". The theme for this new session is "Fish and its multiple uses and flavors in French cuisine and gastronomy".
Registration in advance - only 8 people workshop. 80 FDJ $.
Like last year, the Alliance Française de Suva and the French chef Philippe Garand organize an authentic French cooking workshop. This workshop focusses or on a French region specific gastronomy or can be around the use of a specific aliment, and will make you discover France through its different culinary specialties. In 2016, South East French Mediterranean cuisine was explored, as well as South-West of France gastronomy.
Mr. Garand is the Chef at the Holiday Inn hotel in Suva. He has spent a large part of his career abroad, notably in Russia, Japan or in the Philippines. Established in Fiji since 2009, his French Cuisine workshop is three hours long, two dedicated to cooking, and the last one to enjoy the just-prepared lunch with the assorted French wines.

Venue : Alliance Française of Suva
Entrance : 80 FDJ $ - limited to 8 people (registration in advance at culture@af-fiji.org)
Date and hour : Friday 28th April. 10am-1pm.
Upcoming events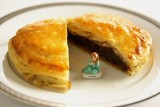 On Tuesday 9th January from 4 PM at Alliance Française - Free and open to all

Read More…
TESTIMONIALS
Berlian

"Learning French at AF is so much fun! The teaching method is great and easy to understand, especially for a beginner student like myself. The staff & teachers are very friendly. Mon professeur de francais est excellente!"
send us what you think