La Grande Case - The Great House

exhibition
Launching on Tuesday 22nd August at 7.30pm at Alliance Française of Suva – free entrance, French wine and finger food offered.
This exhibition is provided by the ADCK Tjibaou Cultural Center of Noumea (New Caledonia) and open until 27th October. Some pictures of this exhibition are also exhibited on the terrace of the Fiji Museum.

The exhibition : La Grande Case – The Great House
The Agency for the Development of Kanak Culture organized in 2016 in ADCK Tjibaou Center (Noumea) an annual photographic and documentary exhibition entitled Treasures of the Library. The main objective was to bring out documents, more specifically from the iconographic collection, that are little known to the public. La Grande Case – The great House – was presented on this occasion.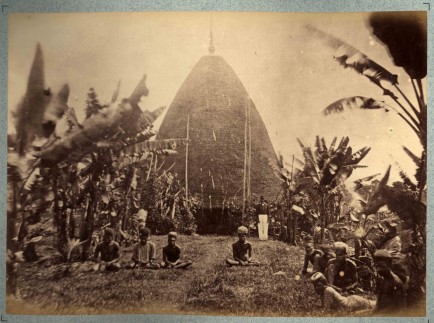 The Great Hut or Great House (La Grande Case ou Grande Maison) is the home of the ancestors. The Great House focuses the power of the clan just as the firstborn, which the Great House symbolizes, does.
The Great House is built in the Loyalty Islands in a yard and on Grande Terre at the higher end of an alley, on a sacred knoll which remains after the destruction of the house and which is the materiel sign of the origins of the group inscribes on the land. No one may enter or even come near without being invited to do so. All the important episodes of collective life happen in the alley or yard, facing the Great House.
It is the Hall of the Word, and the Elders gather there whenever community decisions have to be made. Its function is both social and sacred: it is there that laws are made, inspired by the wisdom of the Elders in the presence of the ancestors.
These Great Houses have practically disappeared since the beginning of the 20th century, however we can reconstitute an image of it through vestiges, texts, oral tradition, or the memory of Elders. A magnificent example of a recent Great House exists at Saint-Louis, near Noumea, since 1995.

Our partner : ADCK Centre Culturel Tjibaou – ADCK Tjibaou Cultural Center
This cultural center's main goals are :
- To promote the Kanak linguistic and archeological heritage
- To support Kanak contemporary forms of expression, especially in the field of handcraft, broadcasting technology and art
- To develop cross regional interaction, especially in the South Pacific
- To plan out courses of study
Transferred to New-Caledonia in 2012, newly named ADCK-CCT aims to search, collect and promote the kanak cultural heritage, to initiate and develop kanak artistic creation, to provoke the emergence of common cultural practices and references, to be a pole of regional and international exchanges.
TESTIMONIALS
Berlian

"Learning French at AF is so much fun! The teaching method is great and easy to understand, especially for a beginner student like myself. The staff & teachers are very friendly. Mon professeur de francais est excellente!"
send us what you think