Vakatakila

,
Alifereti
Malai
portraits
exhibition
Launching on Thursday 9th November at 7.30pm at Alliance Française of Suva – free entrance, French wine and finger food offered.
Alifereti Malai portraits exhibition – « Vakatakila » Revelation II

« Vakatakila » Revelation I was exhibited in July 2016 at Alliance Française of Suva and focused on masi.


The exhibition

"This portrait exhibition is about my belief, faith and admiration of how beautiful God's creation is.
When, after Jehovah God created the Universe: The Earth, land, sea, plants, birds and animals … something was amiss. He then created a man, Adam. When he saw that the man was lonely, he then created one of the most beautiful of all His creations – Woman.
I'll be exhibiting portraits of some of Fiji's beautiful women.
As there are only very few portraits artists in the Pacific region, I'm now revealing one of my unique style, portraits".
Alifereti Malai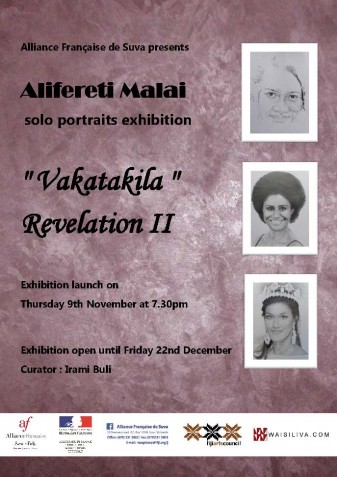 The artist
Alifereti Malai is an award winning artist who hails from Burelevu, District of Nagonenicolo in the highlands of Naitasiri. He is one of the most aspiring and inspirational artists in the Pacific.
He learned art when young and was educated at Mualevu Village School in Vanuabalavu, Lau as well as Marist Brothers High School and Ratu Kadavulevu School. He spent 3 years doing contemporary arts at the Oceania Centre for Arts and Culture in USP.
He has also represented Fiji at Arts Festival around the Pacific and in Australia and New Zealand. Alifereti is currently operating from his highland paradise creating art.
He is a member of the Waisiliva artist collective, based in Leleuvia Island, whose group exhibition took place at Alliance Française of Suva in March-April this year.
More info : http://www.waisiliva.com/alifereti-malai.html

Art workshops on portrait are organized on Monday 27th November and Monday 11 December (4.30pm-6pm / 20$). For more information, follow this link :
TESTIMONIALS
Berlian

"Learning French at AF is so much fun! The teaching method is great and easy to understand, especially for a beginner student like myself. The staff & teachers are very friendly. Mon professeur de francais est excellente!"
send us what you think