Screening of The Coral Odyssey, a

documentary

about Tara Pacific and

Tara

Expedition Foundation
Wednesday 2nd August – 7.30pm (free entrance) – 52 minutes.
A documentary written and realized by Pierre de Parscau (narration by Jacques Gamblin), produced by The Cup of Tea, Tara Foundation (la Fondation Tara) and CNRS Images, with the participation of France Télévisions and CNC.
This documentary aims at exploring coral reefs and their adaptability to climate change.
The Tara Pacific Expedition was on Fiji early in June this year and in Suva from Tuesday 6th June until Friday 9th June. Different events were co organized by the Foundation Tara and both Alliance Française of Suva and the French Embassy in Fiji. On popular demand, we decided to screen again this documentary, which will also circulate among Fijian communities according to the will of the FLMMA (Fiji Locally Managed Marine Area).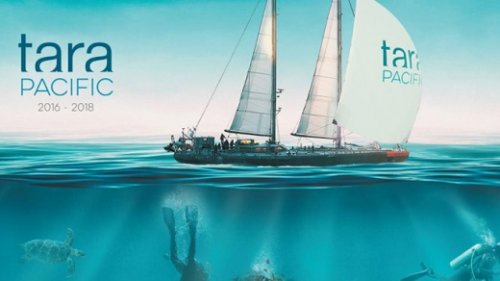 Summary :
The Tara Team, a schooner, is getting ready for an unprecedented mission: to catalogue the aquatic fauna around two islands in the South Pacific Ocean: Wallis and Futuna. Indeed, no inventory has been made in these waters for the last 40 years, which could help increase our understanding of the 600 or so species that live and breed there. How does overfishing impact marine life? How can we learn to preserve this resource, which is essential to the local economy? What natural treasures are hiden offshore of this archipelagos?
Résumé :
La mythique goélette Tara se lance dans une nouvelle expédition : étudier le corail de l'Océan Pacifique, cet animal mystérieux dont la vie n'a jamais été autant menacée. Une mission qui débute en Polynésie et qui, des récifs de Moorea jusqu'aux atolls des Tuamotu, met les marins et des scientifiques au contact des populations insulaires directement touchées par la disparition du corail. A travers cette aventure humaine et scientifique à travers laquelle Tara fait revivre l'esprit des grands explorateurs du passé et renoue avec la tradition des voyages de connaissance du monde.
Trailer : http://oceans.taraexpeditions.org/mediatheque/films/tara-lodyssee-du-corail/
The Tara Expedition Foundation has been working since 2003 to preserve the environment and promote scientific research thanks to the schooner Tara. Over the past 13 years Tara completed 10 expeditions and traveled 350,000 kilometers around the world, visiting more than 40 countries. With 75 laboratories and institutes involved in 21 different fields of research, scientists aboard Tara have collected tens of thousands of samples and observations. This valuable data will increase our understanding of the impact of climatic and environmental changes on the ocean. Between 2016 and 2018, this new Tara Expedition, Tara Pacific, focusses on a new approach to coral reef biodiversity.
Source : Fondation Tara Expéditions
More info : http://oceans.taraexpeditions.org/
TESTIMONIALS
Berlian

"Learning French at AF is so much fun! The teaching method is great and easy to understand, especially for a beginner student like myself. The staff & teachers are very friendly. Mon professeur de francais est excellente!"
send us what you think