French

Movie

Night - La

Baie

des anges / Bay of

angels
Wednesday 6th September at 7.30pm – 1h25 - free entrance.
In French with English subtitles. Free drinks, French crêpe for 2 F$
French romance and drama directed by Jacques Demy, 1963. Starring Jeanne Moreau and Claude Mann.


On this month of September, we pay tribute to Jeanne Moreau, one the greatest French actresses, who passed away on 31st July this year. We present three of the best movies she played in, La Baie des anges (6th September), Ascenseur pour l'échafaud (13th September) and Jules et Jim (27th September).
Jeanne Moreau (1928-2017), a French actress, singer, screenwriter and movie director, played in more than 130 movies, among them Ascenseur pour l'échafaud, Les Amants, Moderato cantabile, Eva, Le Journal d'une femme de chambre, Viva María!, La mariée était en noir, La Vieille qui marchait dans la mer... and collaborated with some of the best movie makers like Luis Buñuel, Theo Angelopoulos, Wim Wenders, Rainer Werner Fassbinder, Michelangelo Antonioni, Joseph Losey, Orson Welles, François Truffaut, Louis Malle, André Téchiné or Bertrand Blier. She won the Cannes Film Festival Award for Best Actress for Seven Days... Seven Nights (1960), the BAFTA Award for Best Foreign Actress for Viva Maria! (1965), and the César Award for Best Actress for The Old Lady Who Walked in the Sea (1992). She was also the recipient of several lifetime awards, including a BAFTA Fellowship in 1996.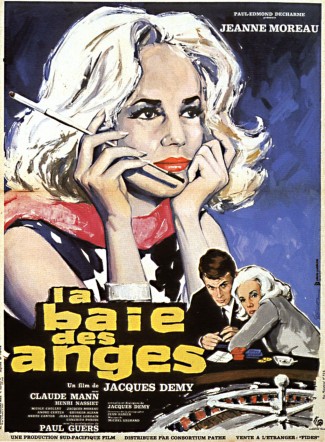 Summary :
Jean is a clerk in a bank. His colleague Caron is a gambler and gives him the virus. In the casinos, Jean meets Jackie. Their love affair will follow their luck at the roulette.
Résumé :
Jean Fournier, modeste employé de banque, est initié au jeu par son collègue Caron. Favorisé par la chance, il part pour Nice contre l'avis de son père. Il rencontre dans ce sanctuaire sa reine, une certaine Jackie dont il tombe immédiatement amoureux. Jackie n'est pas insensible au charme de Jean mais les ailes de leurs amours vont se brûler à la passion du jeu.
TESTIMONIALS
Berlian

"Learning French at AF is so much fun! The teaching method is great and easy to understand, especially for a beginner student like myself. The staff & teachers are very friendly. Mon professeur de francais est excellente!"
send us what you think